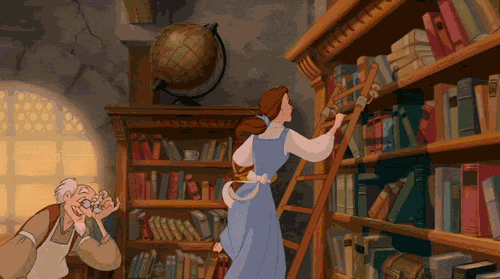 I've always wanted to be Belle.
I think she's one of the main reasons
I dream of having a sliding ladder bookcase
I can also relate to this song about her...
[Group Of Men]
Look there she goes that girl is so peculiar. I wonder if she's feeling well.

[Group Of Women]
With a dreamy far off look.

[Group Of Men]
And her nose stuck in a book.
[Villagers]
What a puzzle to the rest of us, is Belle.
When I was younger, it was great to have a Disney princess
that liked books as much as I did- even if everyone else
thought she was odd. It's by far the most
romantic & dreamy cartoon ever.